We've surveyed some of the best and most famous photographers of modernity: Martin Parr, Rankin, David Doubilet, Jill Furmanovsky or Bryan Adams, who is also a well known celebrity. All of them are famous photographers due to their hard working and constant self improvement. Being on the top of their careers, they have much to share and provide the beginners with the word of wisdom.
We've actually collected insightful tips from more than 50 different people. Here, the famous photographers, who have succeeded in completely different genres and photo editing streams, share their most important thoughts and ideas. And at the same time reveal the events and actions that allowed them to climb to the top of their own skill and fame. You're welcome to study some of them with us.
Tips From Professional Photographers
Martin Parr
Documentary photography
Born in the county of Surrey in 1952, Martin Parr is one of the most famous photographers from the United Kingdom. He studied (and taught) photography to Manchester Poly in the 70s.
The most outstanding achievements include the «Art Council» award, received in 1975, a permanent membership in "Magnum" photo agency and a retrospective of the works shown at Barbican in 2002.
Tip # 1. Make sure the people you are photographing, do not smile. Otherwise, it will be rather an image, but not a photograph.
Tip # 2. Approach the people you photograph.
Tip # 3. Pick a suitable environment. I mean suitable for those, whom you picture.
Tip # 4. Again, make sure the person does not smile. This is the biggest amateurs mistake.
Tip # 5. Wanna photos to be "alive?" – Be persistent. The luck will be waiting at the end.
Rankin
Advertising and portrait photography
John Rankin Waddell, also known as Rankin, was born in Glasgow in 1966. First, he studied accounting at Brighton Polytechnic, but then switched to photography course at London College of Printing.
Rankin is the co-founder of a successful contemporary culture magazine «Dazed & Confused». He has also made a great contribution into the modern fashion magazines: «Arena», «Vogue» and others.
Tip # 6. We should not think that the camera as the most important part of the process. All you need is to find a camera that you like to shoot, and to photograph constantly. Consider the camera as no more than a tool.
Tip # 7. Experiment and take risks. All that we did in the early days of «Dazed & Confused» was risky. Look at good work of your colleagues, but do not copy it.
Tip # 8. Constantly think of the light. Photography is light. Everything can be a source: the sun, the candle, the computer screen, etc.
Tip # 9. Be existed with everyone you picture. Love people, if you want to do the same job as me. You should not look through the lens, but along it. Create a relationship, and only then create pictures.
Vincent Munier
Wildlife photography
A wildlife photographer Vincent Munier is one of the most famous photographers in France. Munier acceded the mountains in Western France. His father, Michael, being a naturalist, inspired his son to do photography. Over time, Munier's photos appeared in such magazines as «National Geographic», «BBC Wildlife» and others. He also received serious international awards, such as BBC version "Wildlife Photographer of the Year» in 2006 ("Birds" category).
Tip # 10. Wildlife photography does not tolerate fuss. You will need time to watch the heroes of your photos. So, that you will understand their behavior.
Tip # 11. Know when to release the shutter. It is important. I try to use only natural lightning and minimally process the images.
Tip # 12. Take time to study the flocks and habitats of your heroes. Try to imagine the final image even before you take a picture.
Tip # 13. For the sake of the picture do not bother, do not harm the animal, not ruin their home.
Nick Danziger
Documentary photography
Nick Danziger was born in 1958. In 1982 he published his best-selling book «Danziger's Travels». He also wrote other books, rewarded, and directed documentaries. He won the «World Press Photo» in "Portrait" category, a series of «Blair at War» was exhibited at the National Portrait Gallery.
Tip # 14. Be existed by a hero and, at the same time, be tactful – You are a guest.
Tip # 15. Think about how to relate the composition of your photos to the context in which you create it. The composition and context should not be strangers to each other.
Tip # 16. My style involves shooting in natural light. I try to use it whenever possible. Because it is more natural!
Tip # 17. Ask your hero for a permission, to come closer. It's much better than taking pictures from afar.
Tip # 18. I edit images using Photoshop slightly. I believe that it is not something removed or added to the portrait that I actually create. For example, I use "lightening-darkening" technique in my black-and-white pictures.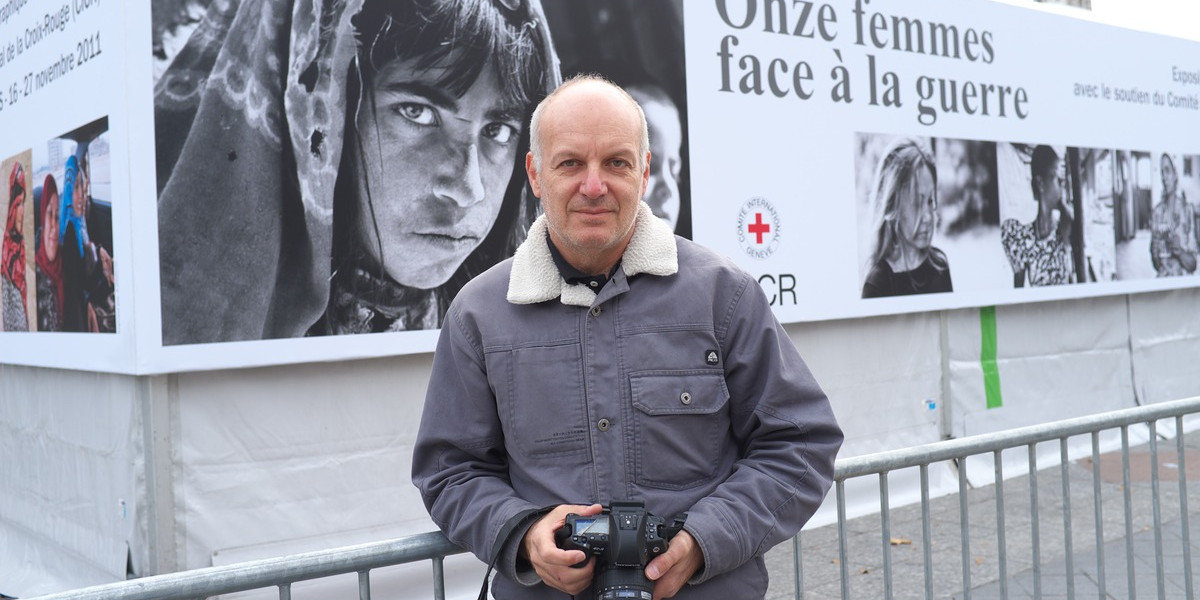 Bob Martin
Sport Photo
Bob Martin is one of the most independent and successful photographers of sport events in the UK. Through his work, he has traveled almost the entire planet. His work has appeared in numerous publications, including «Sports Illustrated», «Time», «Newsweek», «Life Magazine», «Stern», «Paris Match», «Bunte »,« L'Equipe »,« The Sunday Times »and« The New York Times ». Martin has received over 50 awards, including the «Sports Picture of the Year» at «World Press Photo» competition in 2005.
Tip # 19. Anticipate events. Even the fastest SLR cameras react with a delay.
Tip # 20. Always be aware of the composition. Background is a cornerstone.
Tip # 21. Make sure that your hero takes much in the frame area. Think what he or she will do in the next moment.
Tip # 22. When shooting sport events, there must already be a suitable lens at the right time on your camera. There's not time to change lenses.
Tip # 23. Learn to shoot in RAW-format. You won't make the most of your images, shooting only in JPEG.
Bryan Adams
Portrait photography
Bryan Adams is the most unexpected one among the modern, fashion and famous photographers. He was born in Canada in 1959. He ran away from school at the age of 15 to pursue his music goals. Before becoming one of the most famous photographers in the world, Adams achieved success as one of the most successful singers and songwriters with his series of albums, singles and soundtracks in the 80s and 90s.
Since 2000, Adams is gaining prominence as a photographer, specializing in advertising and portrait photography.
Tip # 24. I remember one of Herb Ritts' assistants said to me: "Always shoot another reel. Even if you think you've already done it. "
Tip # 25. Make people feel that it is their photos, not yours. There is nothing worse than a pushy photographer.
Tip # 26. If you see that the picture is strange, better make it right while shooting. In my opinion, it's better than relying on Photoshop after all.
David Doubilet
Underwater photography
Born in New York in 1947, he is one of the most beloved and well-known photographers for «National Geographic». After graduating from the Boston University, he began working on «National Geographic» in 1970. Doubilet has written several books, including «Fish Face» (2003) and «Water Light Time» (1999). His numerous awards include «The Sara Prize» and «Lennart Nilsson Award in Photography».
Tip # 35. If you are engaged in underwater photography, you need to make friends with the water before going in depth.
Tip # 36. Learn how the light works. Analyze the greatest photos and think of how they were created.
Tip # 37. Go to a museum and look at the images. Study authors, discover the works that you like and analyze why you like them.
Tip # 38. Lie down on the bottom of the pool and explore the reflections and refractions of the light. Also, learn to control the lighting using the flash.
Tip # 39. Try everything. We are no longer limited to 36 exposure values.
Steven Tee
Car racing photo
Steven T is a well recognized photographer of motor sports and the head of the agency «London Art Technical» throughout the world. Father T was also a photographer at "Formula 1" races, and his grandfather was one of the first, who covered motor sport events in the United Kingdom.
Tee and his service enlighten the events at «WRC», «F3000», «BTCC», «IRL», «Champ Car» and «NASCAR». Tee is a firm supporter of Canon photographic equipment. After the releaze of EOS 1Ds Mark II, all employees of his agency switched to this camera model.
Tip # 54. Know your equipment. You do not have to sit and wonder what function to switch on while the cars are rushing over at the breakneck speed.
Tip # 55. Know your options.
Tip # 56. Choose what to shoot with your heart. I decided to take pictures of motor sport, when I was a teenager.
Tip # 57. Do not be afraid to experiment and create photos that stand out from the crowd. Your pictures should be original.
Tip # 58. Try to look from aside to shoot the scene.
David Noton
Landscape photography
David Noton was born in Bedfordshir in 1957, grew up in Canada and traveled with the merchant fleet. He took photography professionally in 1985, studying it as an adult. Noton won three «Wildlife Photographer of the Year» BBC version awards.
Now he is a prolific writer and teacher. Noton's latest book is called «Waiting for The Light» («David and Charles» publishing house).
Tip # 59. Follow your heart. You better picture what you like. I've been watching this phenomenon iwth my students.
Tip # 60. Learn from your mistakes. Use the conclusions you made of them: go back to the shooting position, and do it right.
Tip # 61. Keep inquiring on the light refinements.
Cameron Davidson
Aerophotography
Cameron Davidson was born in North Virginia, US in 1952. he got interested with photography by accident, when he found a camera in the closet.
At the age of 23 he received his first assignment from the «National Geographic». He was asked to photograph heron in the air. In the 1980s he expanded the range of his professional influence, and became involved in the preparation of annual reports and books, including Florida State shooting from the air.
Tip # 62. Do not follow trends and do not copy other people's work.
Tip # 63. Concentrate on the image that is being created, and the emotions that you invest in it, rather than to pay greatest attention to the digital tricks.
Tip # 65. Think about how to create gorgeous photos during shooting, but do not rely on Photoshop features afterwards.
Tip # 66. Focus on your vision and learn to listen to yourself.
Tip # 67. Finally, find what you love to photograph. And shoot it, shoot it, shoot it.
With the word of wisdom and practical tips from photographers with years of experience in different photography genres, it will be easier for you to study and practice your photography activity and achieve great success.
Do you know any other famous photographers? Welcome to tell us about it in comments below. Good luck!