There are a lot of movies best photography, that's true. What's interesting is that the scenarios to them are often written by people that have nothing to do with photography. Ironically enough, movies are movies, and the strength of directors' imagination allows you to imagine the life of a photographer on screen easily. Well, if directors participate in writing the script, as most of them are seriously engaged in photography, the movies may tell a lot about the photography art and its craftsmen. Here are some of them you haven't yet seen or even known. Enjoy it!
T

op 10 Photography Movies Worth Watching
A Thousand Times Good Night / Tusen ganger god natt, 2013
Country: Norway, Ireland, Sweden
Genre: Drama
Starring: Juliette Binoche, Nikolaj Coster-Waldau, Laurin Kenni, Mads Ousdal, Chloe Annett, Maria Doyle Kennedy, Larry Mullen Jr., Yves Mclean, Denise McCormack, Charles Sha'ban, Steven Mullen.
The Plot: Rebecca is famous for being a war photojournalist, but her family cannot put up with the fact that she regularly endangers her life. In the end, their patience comes to an end. Now Rebecca's husband and her daughter confront her with an ultimatum, forcing her to make a final a choice between her career and the family in favor of the latter one. They think that the decision will be obvious, but Rebecca is not sure how it should be done. She considers that her pictures are saving the world. Sometimes they really do, but it is often the other way around … The film is about the difficult choice of a photo journalist in a situation where we need to save and watch. It' rather about the meaning and challenges of a photojournalist profession.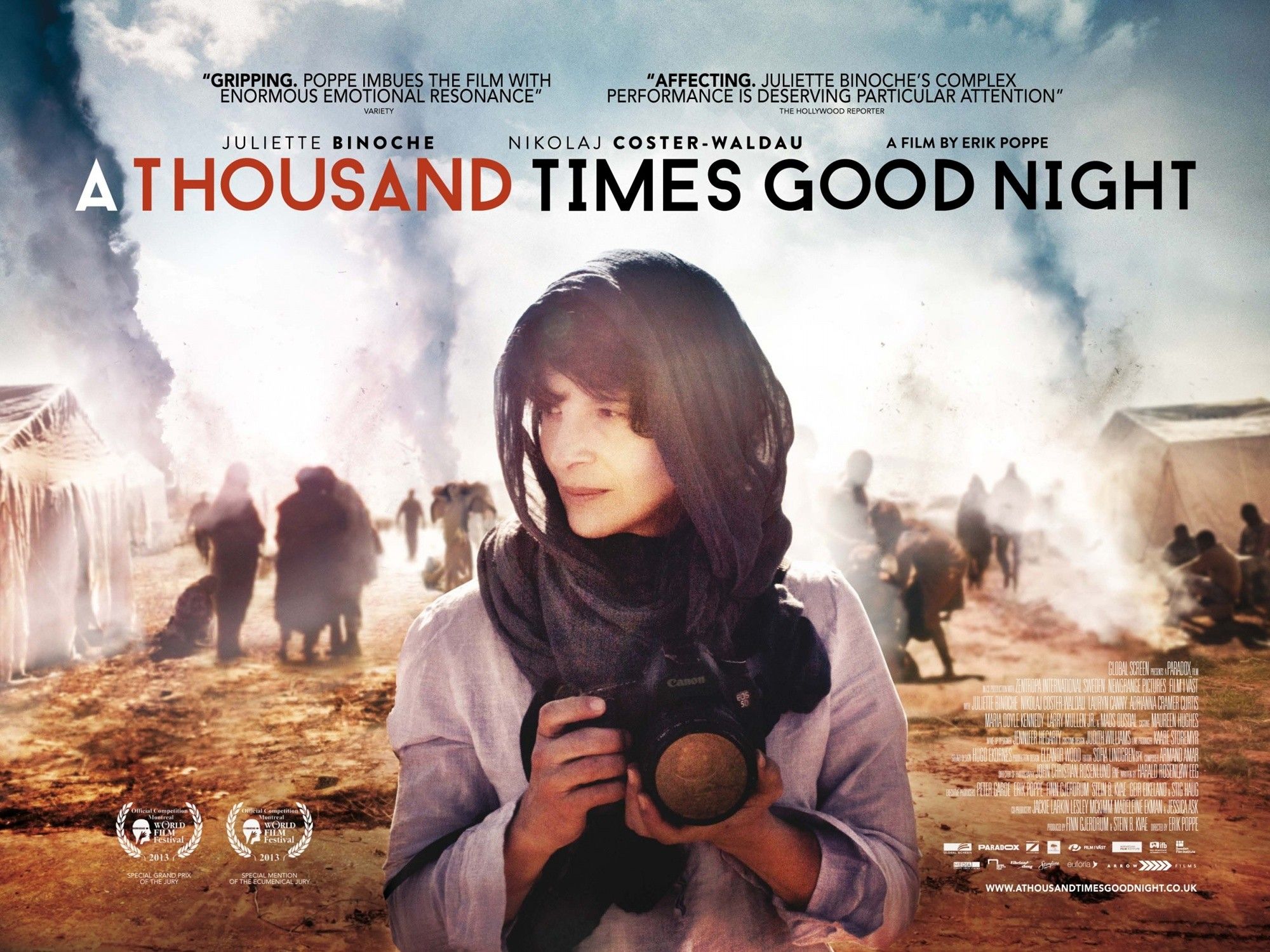 Twice Born /Venuto al mondo, 2012
Country: Italy, Spain
Genre: Drama
Starring: Penelope Cruz, Emile Hirsch, Adnan Haskovich, Saadet Aksoy, Pietro Kastellitto, Jane Birkin, Luc De Filippo, Mira Furlan, Sergio Kastellitto, Branko Djuric, Isabelle Adriani, Sanya Veynovich.
The film is based on the novel by Margaret Mazzantini "Twice Born," Directed by Sergio Castellitto.
The Plot: This romantic story is overlapped with hard thriller. The heroine of the story Gemma is given everything: beauty, intelligence, capacity for compassion, material well-being. But one day, early in the morning, she and her sixteen year old son leaves Rome. She needs to show her son the town, where he was born and where his father, a talented Italian photographer Diego, died. It is a journey back to the crazy young years when the heroine, makes an impossible love that falls only once in life, and not for everyone. Gemma again plunges into the atmosphere of those anxious days, when, among the ruins of Sarajevo, a city caught in the center of the senseless war, she touched the secret. The film has a very complex storyline. Sophisticated and sad.
Diego seems to be a good photographer, as he reflects, sometimes he says good words about photography and takes pictures. His exhibition is also shown in the movie. One of those good old movies about film photography.
Louder Than Bombs, 2015
Country: Norway, France, Denmark, USA
Genre: Drama
Starring: Jesse Eisenberg, Gabriel Byrne, Isabelle Huppert.
The Plot: One family, three men and three views at the woman they used to love. After she passes away, an aging playboy and a good-natured father of the family, an older son and a gloomy romantic teen keep their memories of their mother and wife, who preferred a loud war photo journalism to a quiet New York suburb life. That's funny how the poignant stories about her are interwoven with the events of today, where each of the men is experiencing a new love that is still louder than bombs. Directored by Joachim Trier, written by Joachim Trier, Eskil Vogt. Imdb high rated movie.
Pecker, 1998
Country: USA
Genre: Comedy
Starring: Edward Furlong, Christina Ricci, Bess Armstrong, Mark Joy, Mary Kay Place, Martha Plimpton Brendan Sexton III, Mink Stole, Lili Taylor, Patricia Hearst.
The Plot: A young boy from Baltimore, Packer, likes taking pictures. And not just likes, but gets adrenaline rush from working with the camera. He takes pictures constantly everywhere: at work, in the cafe, in public transport, in the streets, at home, at the store. He is "masterly" assisted by this thief-friend, creating unusual situations for the arts man.
The Fate brings Packer to a New York agent, the gallery owner. The girl makes him an advantageous offer of organizing an exhibition in New York. Exquisitely capricious and elite audience is delighted with the work of the provincial boy. He is immediately showered with orders for exhibitions in prestigious galleries, but Pecker decides that now he is not going anywhere. He lets the New York City snobs come.
Film is much of fun. Photographer's funny, his pictures – ridiculous. Another American dream story is shown: a moment – and you're rich and famous in the USA! You can still watch it on Netflix.
Fidelity / La Fidelite, 2000
Country: France, Portugal
Genre: Drama
Starring: Sophie Marceau, Pascal Greggory, Guillaume Canet, Michelle Syubor, Megan Noel, Mark Francois, Edith staples, Marina Hands, Aurelien Rekuan.
The Plot: Young and talented photojournalist Clelia is working for the infamous media tycoon Lucien Mack Roi, who was once the lover of her mother. Clelia's photo reports differ in a great fiction and require considerable courage. Cleve, an editor who is in love with Clelia at first sight, asks for her hand. She can not resist his directness and touching clumsiness and agrees. For her, Cleve refuses to marry the daughter of Mack Roi. On the eve of the wedding, Clelia meets a young paparazzi Nemo, who is working on the same Mac Roi company! And while Clelia falls in love with Nemo, she tries to remain faithful to her husband, whom she respects rather than actually loves…
In the film, a lot of attention is paid to the photos, photo editing, and the characters appear creative, looking for themselves people in art. Photos surprise. It's interesting to watch the photographers, who love each other, making love and appreciating each other from a professional point of view, ie, as photographers and competitors.
Blowup

,

1966
Country: United States of America, Great Britain, Italy
Genre: Drama, Detective
Starring: Vanessa Redgrave, Sarah Miles, David Hemmings, John Castle, Jane Birkin, Gillian Hills, Peter Bowles,Veruschka Von Lendorff, Julian Chagrin, Claude Chagrin.
The Plot: It's truly one of the great movies about fashion photography. The main character is a famous, talented young photographer, a prototype of which was either Bert Stern, or David Bailey. Anyway, one day, while working in a city park, he accidentally shoots an odd couple. And then either romantic or criminal shows, not sure. As the plot unfolds, you realize the movie has a pseudo detective line and nothing is as it seems.
This is also the first of the British movies where an entirely nude female body was shown.
The Bang Bang Club, 2010
Country: Canada, South Africa
Genre: Drama, History
Starring: Malin Akerman, Ryan Phillippe, Taylor Kitsch, Frank Rautenbach, Patrick Lister, Nelson Mandela.
Based on the book by Marinovich and Silva, the film tells the story of the search for truth in a danger to life, touching on difficult moral questions, these searches are related to.
The Plot: The film tells the true story of four world-renowned photojournalists from South Africa and is one of the movies about street photography.
They receive the most prestigious journalism awards, their pictures adorn the front pages and the leading and most authoritative newspapers and magazines covers. But what they really are is young adrenaline addicts, for whom their profession simply turns into extreme sports. it's up to you to choose if they're media vultures, earning money and fame on the reports about the others' suffering or real fearless heroes of journalism, risking their lives in order to reveal the truth to the world.
Like it or not, but The Bang Bang Club is a true life story about four photographers showing the last days of the reign of the apartheid regime in South Africa. In the history of photography, they were called the "club of snipers" or "crazy club": Kevin Carter, Greg Marinovich, Joao Silva, Ken Oosterbroek, united by friendship and determination, telling the truth. They risked their lives trying to talk about the violence and brutality that preceded the eve of the first free elections in South Africa in the early 1990s. During this period, photographers created their best works (two of them won the Pulitzer Prize), but paid a very high price.
Fur: An Imaginary Portrait of Diane Arbus, 2006
Country: USA
Genre Drama / Biography
Starring: Nicole Kidman, Robert Downey Jr., Jane Aleksandrov, Tai Bёrrell.
The Plot: Among movies best photography, this biographical drama about the life of Diane Arbus takes a special place. According to the filmmakers, the film is not a traditional biography and fantasy.
Written by Patricia Bosworth, and Erin Cressida Wilson, this is the free adaptation of a novel-biography of Diane Arbus, written by Patricia Bosworth, which tells about the period of creation of this woman-photographer since 1960. Her shocking works that captured the human ugliness and the physical properties shocked the world of photography, ending with her suicide in 1971.
The film, according to its director, does not focus on the details of the life of Arbus, and is aimed at lighting the most important moments of her biography: deciding to quit shooting with her husband and start a photographer career on her own.
A mysterious character (played by Robert Downey Jr.), hiding his face behind the mask, intensifies the drama. Arbus feels craving for the man-monster, covered with thick fur head over heals, and discovers the effect of her beauty in his endearing ugliness.
My Little Princess, 2011
Country: France
Genre Drama
Starring: Isabelle Huppert, Anamaria Vartolomei, Georgetta Leahu.
The Plot: Photographer Irina Ionesco (Isabelle Huppert) takes provocative photos of models and her young daughter. Based on a true story of her life, the movie is directed by Eva Ionesco. Another contribution into movies beautiful photography: incredible, scandalous and shocking.
Irina, a bohemian photo artist, makes a model of her daughter when she is a little girl. Irina considers glamorous, sexy, outspoken, provocative pictures of her child to be the works of art. When she is 11, she appears on the pages of "Playboy" (and later "Penthouse") completely nude and stars in the erotic movie called "Maladolescenza", which causes a scandal. As an adult, Irina is repeatedly sued as a mother of a sexually molested and morally damaged child.
Closer, 2004
Country: USA, UK
Genre: Drama, Romance
Starring: Natalie Portman, Jude Law, Julia Roberts, Clive Owen, Nick Hobbs, Colin Stinton, Steve Benham, Elizabeth Bauer, Jacqueline Tiffany Brown, Michael Haley.
About the film: The man suffers from not getting what he wants. But the more he suffers when he cannot actually figure out what he wants … A young writer Dan loves a stripper, Alice, though doesn't mind an affair with a fashion photographer Anna either. At the same time, Larry becomes a gloomy macho boyfriend of Anna, however, he also dates Alice too. And none of them can sort out their feelings and finally decide with whom he wants to stay. Relations within a love quadrangle is gradually heating up, throwing the heroes into the abyss of passions and bringing them to an unexpected, paradoxical outcome relentlessly…
The photo is involved as an object, which creates all kinds of plot points. Anna works with «Leica M6» with an engine. Her exhibitions are often showed. But for the picture, Anna would probably have gone mad.
Golden Globe Award for Best Supporting Actor and Best Supporting Actress, 2005.
«Those who love at first sight are traitors at every glance.» Well, watch the movie and make sure they are.
Welcome with your movie suggestions and discussions on movies best photography!