Another great solution for any developer may be an online photo proof gallery with a full arsenal of credible pictures to inspire and brainstorm the new ideas and concepts. That's why we'd like to present you with the biggest badass list of designers client proofing gallery solutions that might help in the everyday professional struggle. Ready? Go!
The badass list of free stock photo websites
One of the most efficient sources for designers is photo stocks with a good online proofing gallery. With the greater part of these free stock photographs, you can only convey, duplicate, alter, or do whatever you need, for your particular private use or business purposes, without asking anybody or giving any permission. Why not?
1. Photype
it's completely free. You get free photos from Pexels.
Link: Photype.co
2. Kaboompics
This stock includes many great food and fashion stock photos. It's free of restrictions!
Link: http://kaboompics.com/
3. Fancy Crave
It's absolutely free of use. Welcome to collection of photos that are taken all around the globe.
Link: http://fancycrave.com/
4. StockPhotos
Nothing complicated. Here, anyone can sign up easily and add photos.
Link: http://stockphotos.io/
5. InstaStock
Another photo stock which is completely free of restrictions. Use whatever your want.
Link: http://instastock.co/
6. Epicantus
New royalty free photos added weekly.
Link:  http://epicantus.tumblr.com/
7. Splitshire
All material is on this web is taken by Daniel Nanescu who is a great Italian photographer. The photo stock is free of restrictions too. If you wish, you can order a premium account for only $20 per year and have a greater selection of exclusive pictures.
Link: http://www.splitshire.com/
8. Gratisography
This is a stock from Ryan Mcguire, a web designer and artist.  Here you can take the pictures completely free from copyright restrictions
Link: http://www.gratisography.com/
9. Life Of Pix
This is free stock with images made by Leeroy, an advertising agency which is situated in Montreal. The web resource is free of restrictions which is just what you need.  
Link: http://www.lifeofpix.com/
10. Startup Stock Photos
This is a useful stock which is made by Sculpt. It's a social media marketing agency based in Iowa City. Completely free.
Link: http://startupstockphotos.com/
11. Picjumbo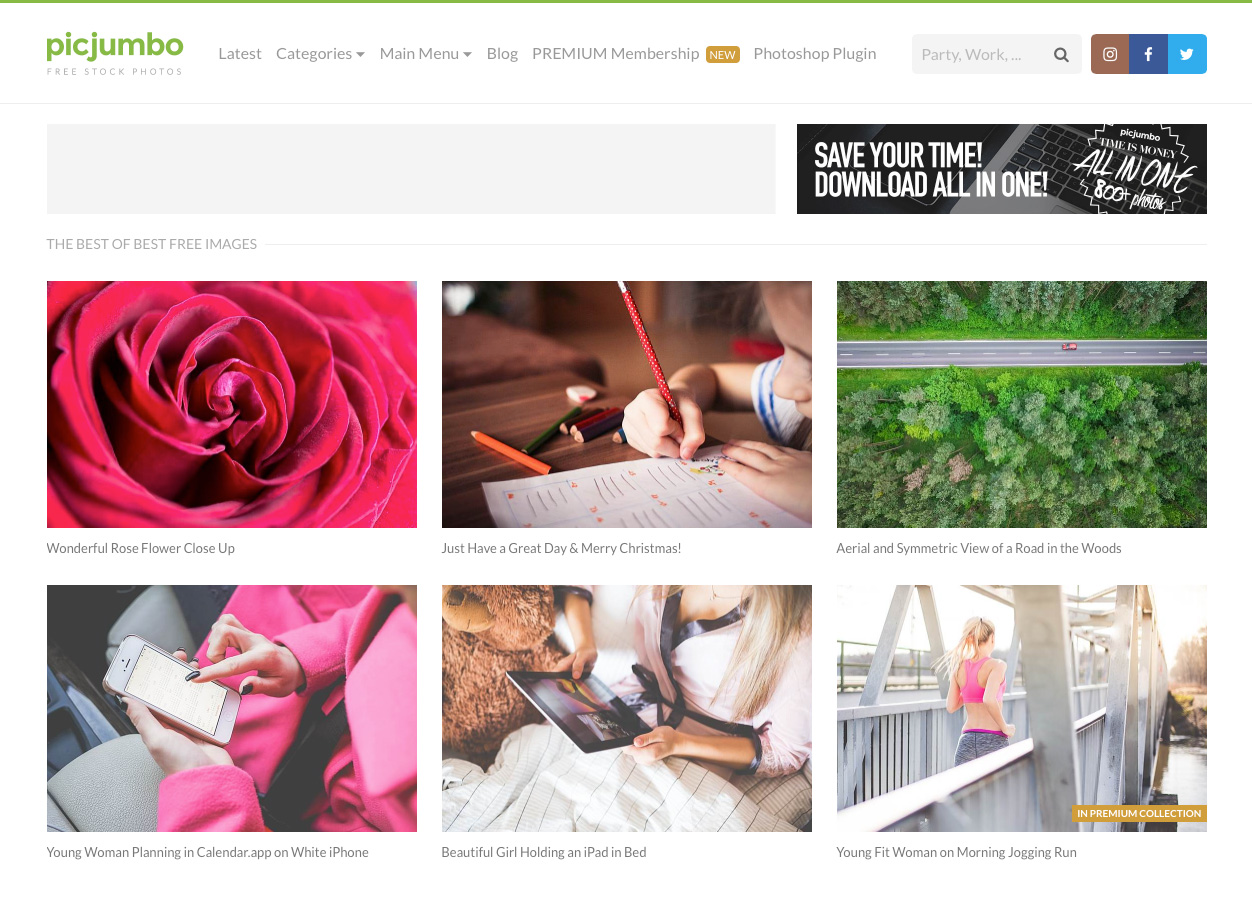 Viktor Hanacek owns this website which is rather ad-funded website. Be ready that they will kindly ask you to turn off your browser ad-blocker.  Free.
Link: http://picjumbo.com/
12. Made In Moments
Rather an interesting web resource founded by Tomy and Marina. A couple describes themselves as a power one, traveling around the globe and making some pictures. However, it has a small photo collection.
Link: http://www.madeinmoments.com/freephotos/
13. Death To The Stock Photo
They don't mind it if you use pictures, but don't distribute them. It's better to claim they are yours if you want to use them for porn/hate/other bad purposes. 10 new pictures are coming each month.
Link: http://deathtothestockphoto.com/
14. Imfree
It's free for commercial use, however, the attribution to the creator is needed.
Link: http://www.imcreator.com/free
15. StockSnap
If you need a collection of high-res free stock photos from around the web, this is it.
Link: https://stocksnap.io/
16. New Old Stock
Looking for a beautiful 99% vintage free photos only, you will come across this photo stock with no known copyrights restrictions. Dozens of old fashioned pictures are at your disposal.
Link: http://nos.twnsnd.co/
17. Superfamous
This is a Los Angeles-based studio owned by a Dutch interaction designer Folkert Gorter.
Link: http://superfamous.com/
18. Jay Mantri
Here yo will get 7 new photos every Thursday. Enough said, eh?
Link: http://jaymantri.com/
19. Travel Coffee Book
It's free of restrictions. A nice collection of travel photos from all over the globe. Royalty free.
Link: http://travelcoffeebook.com/
20. Lock & Stock Photos
Probably a too small collection of pictures taken by AJ Montpetit, but royalty free, as well.
Link: http://lockandstockphotos.com/
21. DesignersPics
Another small collection of photos taken by Jeshu John from India. No restrictions.
Link: http://www.designerspics.com/
22. Picography
This web site is dedicated to the collection of photos picked by professional photographers. No restrictions.
Link: http://picography.co/
Voi la! Now that you know about 22 extra free photo stocks from our bad ass list of designers solutions, you can pick the best online proofing gallery which will definitely help you to succeed in your every day designing or photo processing struggle better and twice faster. Enjoy it!
Welcome with more suggestions. Do not forget to follow up our site best client proofing gallery and share the info!