This is a good question that professional photographers, editors and other people somehow engaged in the photo processing may be interested in. In fact, a lot of people nowadays use professional online proofing services and platforms for editing/proofing /sharing and management of their work flow either web-based or mobile. So, advertisers, photographers, designers, editors and many other professions nowadays communicate through easy and understandable proofing platforms to safe their time and cater valuable ideas directly to each other or their customers.
Also, a lot of people stick to the alternative software similar to the professional Photoshop editor, but not as heavy and sophisticated. If you're interested in some useful tools that in addition to the traditional functions not only process photos but add text, allow to create collages or double exposure effect, etc., we are going to deal with such photo applications in this post.
3 apps for adding text to pictures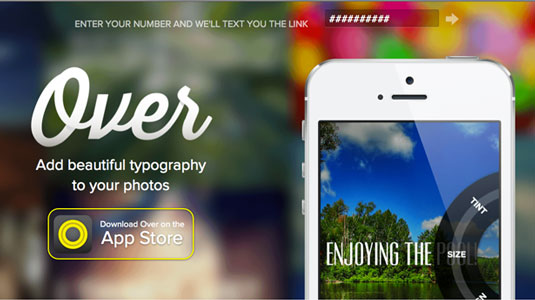 This is an effective app for adding text to the photo. For a start, you can see what people have done with this application. The process is incredibly simple and straightforward: you choose photos, insert text, change its color, size, position and font. In short, it is impossible to get lost. Initially, all the fonts may not be available to the user. For the full set, you will have to pay up. This program features are somewhat limited: you can not make a mark in bold or italic, and use the background for your labels. The application is offered for both iOS and Android systems.
Phonto is said to have the richest functionality. In addition to built-in fonts (there are about 50), it is possible to install extra optional fonts. It is very easy to use the program: you simply click on the photo to add labels. You can do everything to the text. Alignment, changing the font, color, transparency, adding characters, and background, etc. In Phonto, unlike Over, you will be able to make any creative idea a reality. By the way, you can edit the photos, applying one of the filters. An additional set of frames and filters are at your disposal. The app is available for both Android and iOS.
This is an application for iOS which is caring for the friendly design. Typic can automatically crop pictures to the square. After selecting a frame, you can apply one of 11 free filters, add text, choose one of the 30 fonts, and seven colors, adjust its transparency, and finally, decorate or outline the resulting pattern. Perhaps, it may be noted, and a nice interface. The greater number of fonts and filters is available in the second "version" of the program – Typic +, however. Like many other online proofing services for photographers, it is compatible with iPad, iPhone, and iPod touch.
3 apps to create a collage
This is a free app from the creators of PicsPlay Pro. With it, you can easily combine and edit multiple photos. Here you will find a variety of frames and a wide range of options, you will also be able to decorate the pictures with inscriptions and stickers. You can combine up to 9 pictures in one collage! Additionally, you can make round-cornered pictures, choose a background, set the font, etc. Before you start, you can watch a video about the application possibilities, but most likely, you will understand them without it, because the program is very easy and understandable. It works well on both iOS and Android and requires iOS 6.0 or later.
That is a nice application for creation of ads and video stories for iOS and Android. Another free app that allows you to create not only collages but also a kind of cards and ads boards. With the help of this program, you can create video stories using your photos and favorite music and photo stories with text and labels. In total, the program offers about 3000 layouts and stickers. Also, the application allows you to edit individual photos.
This application is fast and easy. Unlike the previous two applications for iOS and Android, Pic Jointer proposes to make the most ordinary collages: simple and fast. There are 64 schemes at the user's choice. The thickness, rounded borders and frame color can be adjusted to your taste. Premium account allows you to select more background schemes.
3 applications to create
multiple exposure
MultiExpo is the first application for multiple exposures for iOS and those looking for an interesting application to create a multiple exposure effects. Incidentally, MultiExpo is a pioneering application for multiple exposures on mobile devices among all online proofing services. It offers friendly and nice interface, the ability to crop each frame individually and apply filters to the already combined image. The app is completely free; there are no optional premium packages offered.
Instant Blend offers multiple exposures as one of the functions for iOS. The application allows you to create images with double exposure. The free feature set includes the ability to apply different filters, contrast correction, the exposure for each frame, all kinds of frames and adds caption to the images. Package premium features allow diversifying the possibilities. The application requires iOS 6.0 or later.
The application is developed especially for iOS. Picamerge seems too simple: here you can not even rotate and crop the image. All that you can do is to merge the two images into one and apply the filter to them.
Have no doubt that people do use proofing/editing online identity proofing service and solutions for photo processing regularly. Now you have more options of using the most attractive, in our opinion, programs.
We welcome comments and suggestions! Good luck!